Move Well, Move Often – It May Save Your Life
Move well and move often: it's smart advice for maintaining a strong, healthy body from head-to-toe, inside and out. With mounting evidence of the ill-effects associated with sitting too much, moving well has become essential for living well.
The way your body moves (functions) is in direct relation to its form (structure) and vice versa. To get a better understanding of this relationship, let's talk cars…
Imagine you drive a beat-up VW Bug. Your little Bug isn't designed to accelerate quickly. It doesn't handle turns with finesse. The way your VW Bug moves is dictated by its structure. Now, let's put you in a Porsche. You can cruise in and out of traffic with the smoothness of silk. This car handles turns better than a rollercoaster. It accelerates like a rocket and can practically stop on a dime. But if you don't perform routine maintenance, all that beautiful form is for naught and your Porsche no longer functions well. Form determines function and how well you care for function affects form. Now, back to your body…
Our body's innate intelligence creates movement patterns that are in dynamic play between form and function, influenced by the type of care we give our body. This complex interaction includes the skeleton, connective tissues like ligaments and tendons, muscles, joints, our breathing, heart function and posture.
Sitting is Killing Us
We sit about 14 hours a day: at meals, in traffic, at school or work, in front of devices and TVs. Prolonged sitting can increase our risk for obesity, diabetes, heart disease, and cancer. It's a primary culprit in these health problems:
Chronic back, hip and neck pain: related to weakened core muscles and shortened ligaments connecting the hips and thighs.
Shallow breathing (reduced respiratory capacity): related to compression of the respiratory muscles while sitting and tightness in the accessory muscles around the rib cage, shoulders and neck.
Gastrointestinal issues and indigestion: related to reduced circulation to the gut.
Low energy level, depressed mood: related to lack of engagement of systems that produce hormones and other substances that elevate mood.
But, I go to the gym…
Even if you exercise at a gym, or fitness walk for an hour each day, you're still sitting too much for that one hour to make a real difference. Leisurely, periodic movement is critical to lowering your risk for chronic health problems and even early death. Some ideas:
Every 30 minutes, stand/walk for about 10 minutes.
Stand while talking on the phone, using a device, or watching television.
Desk worker: Try a standing desk or improvise with a high table or counter; invest in a specialized treadmill desk.
Walk with colleagues for meetings instead of sitting in a conference room.
Once an hour, stand and breathe deeply for five minutes.
Strengthen and stretch with standing yoga poses.
Try apps designed to remind you to move and stretch during work hours.
Enjoy the benefits of getting up and moving, which include . . .
Burning additional calories, which can lead to weight loss and increased energy.
Better digestion, the result of light movement after meals.
Support for the respiratory system's role in helping the body remove waste and toxins; movement gives the muscles "room to breathe" placing less stress on joints, muscle and ligaments.
If you have chronic pain or other problems associated with too much sitting, make an appointment with a holistic health provider, such as a chiropractor or physical therapist, who can perform a thorough postural and biomechanical assessment.
Food for Thought. . .
"There are many ways of going forward, but only one way of standing still." – Franklin D. Roosevelt
Your Body, On Water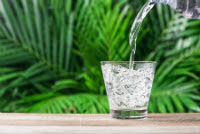 Athletic or not, we all need water. And plenty of it. Hydration affects how our body works in daily activities, how prone it is to injury, and how well it recovers from injury.
Water facilitates hundreds of critical functions in the body, many of which are essential for maintaining good muscle tone, joint mobility, and even managing pain. Specific to the musculoskeletal system, water helps:
transport nutrients and oxygen in the bloodstream (which muscles need to properly contract and recover).
flush out waste and toxins (which plays a role in reducing muscle soreness).
lubricate and reduce friction in the joints.
facilitate muscle contraction.
Dehydrated muscles and joints are prone to:
Cramps: resulting from imbalances in the electrolytes needed for muscle contraction.
Cartilage wear and tear: joints aren't receiving nutrients needed for maintenance and repair after injury.
Friction in the joints: dehydration can deprive your cartilage of the water it needs to maintain cushion, which can lead to achy or "creaking" joints and osteoarthritis (OA).
Pain: dehydrated muscle tissue can't flush out waste products or toxins that build up from exertion, injury or other stress.
Are You Dehydrated?
Dehydration means your body lacks the water required to function. You can become dehydrated if you don't replace fluids lost through exercise, from exposure to the elements, or from vomiting/diarrhea. Excessive caffeine consumption leads to dehydration.
Your daily water requirement depends on age, gender, activity level, body composition, health status, and climate. The color of your urine isn't an accurate guide since certain foods, supplements, and medications change urine color. To ensure sufficient water intake, drink one-half (1/2) of your body weight in ounces. Example: If you weigh 130 pounds, drink 65 ounces of water each day.
Dehydration can quickly become a life-threatening emergency. Signs include:
Mild Dehydration: dry mouth, irritability, headaches and muscle cramps.
Moderate Dehydration: dizziness, clumsy, exhausted, racing heartbeat. You may be unable to urinate, stand, or focus your eyes.
Severe Dehydration: the function of vital organs is impaired. Without water, you will enter a coma and die.
Put Down those Sugary Sports Drinks. Here are Sweeter Ways to Get Hydrated
Go Coconut. Coconut water is rich in natural electrolytes. While not scientifically proven, theoretically it can boost hydration and you may enjoy the flavor more than plain water.
Infuse It! Add fresh or frozen slices of orange, lemon, or lime to your water. Try frozen berries or melon; also try cucumber, mint, ginger or parsley.
Get Fizzy. Bubbly (carbonated) spring water hits the spot on a hot day. Choose varieties without added sweetener.
Have an Herbal. Iced or hot, caffeine-free and herbal teas count toward your water intake and support healthy hydration.
Fruit & Veg Up! Many fruits and veggies have a high water and nutrient content: cantaloupe, honeydew, strawberries, watermelon, pineapple, peaches, cucumber, lettuce and celery.
For more ideas on hydrating to support a healthy body, talk with your holistic health practitioner.
Flexibili-Tea For Your Joints & Muscles
Flexibili-Tea is an aromatic infusion of herbs known to support the health of muscles, bones and connective tissues. In the recipe below we use three herbs.
First, Nettle Leaf, which has a mellow, green tea type flavor that is both nourishing and invigorating. It's rich in calcium, iron, protein and antioxidants. Second, Horsetail adds robust body to the infusion, similar to what you might find with a strong green or black tea. Rich in soluble silica, and readily absorbed by the body, Horsetail supports the regeneration of bones, cartilage and other connective tissue while improving circulation to the extremities. Finally, we use Marshmallow, which has an earthy flavor. This herb contains an abundance of mucilage, which soothes inflamed tissues and accelerates the healing of our tissues.
If you can't locate these herbs loose at a quality health food shop, buy individual tea bags and boil them together. To sweeten the tea, use stevia or try dried organic coconut crystals.
Ingredients

20g Horsetail, Equisetum arvense
20g Nettle leaf, Urtica dioica
20g Marshmallow leaf, Althea officinalis
Preparation

Cover in 1 pint/600ml boiling water. Strain after 15 minutes. Drink throughout day.
Glucosamine, Chondroitin Sulfate & MSM for Joint Pain
Glucosamine sulfate and chondroitin are structural components of cartilage, the tough tissue that cushions joints. Both are produced naturally in the body and are available as dietary supplements. Since production and structure of cartilage decline with age, it is thought that boosting the availability of glucosamine and chondroitin may play a role in managing the symptoms of osteoarthritis, which destroys cartilage in the joints, causing inflammation and pain.
Another supplement often recommended for joint and bone health, and which also fights inflammation, is MSM (Methylsulfonylmethane). MSM is a highly bioavailable form of sulfur that is easy for the body to absorb. For people who have difficulty tolerating glucosamine, MSM is an excellent option. It should be used in combination with glucosamine, or where medically necessary, with chondroitin as well.
These supplements are most often used in combination. Short-term studies have shown good results for people with moderate arthritis, but more long-term studies are needed. A number of other studies looking at pain reduction are being conducted both in the US and abroad. Results currently indicate that it may help some people and not others.
Be aware that glucosamine sulfate and chondroitin are derived from shellfish and should not be taken if you are allergic to shellfish. Vegan forms of the supplements are also available. If you take a medicine called warfarin, you should not use glucosamine and chondroitin. Additionally, there are many forms of glucosamine – only glucosamine sulfate has been studied for arthritis treatment. Speak with your holistic health care provider about whether these supplements are an appropriate option for you.
Be Strong & Beautiful with Horsetail
A cousin of the fern, Horsetail (Equisetum arvense) is a flowerless plant that contains 5-8% silica and silicon acids. The body uses silica in the production and repair of connective tissue and helps accelerate the healing of broken bones. Silica is also necessary to maintain and repair the nails, hair, skin, eyes and cell walls. It's a common ingredient in hair and skin care products and nutritional supplements. Silica is more abundant in our tissues when we are younger, but declines with age.
Horsetail is available as a dried herb, often prepared in capsule or infusion form, as well as a liquid extract and tincture. It requires storage in sealed containers away from sunlight and heat. Horsetail contains traces of nicotine and is not recommended for young children. In addition to the Equistetum arvense type of Horsetail, there is another species called Equisetum palustre that is poisonous to horses. To be safe, you should never take that form of horsetail.
There there are many other medicinal uses for horsetail — each with unique dosing based on the condition being treated and other individual variables. To ensure the potency and quality of the herb for your health needs, talk with your holistic health practitioner.
Biomechanical Physical Therapy Assessment
Biomechanics: contrary to popular belief, it's not just about sports or exercise performance. It's about how each of us moves our body, whether sitting, standing, walking, running, dancing, or playing tag with the kids. In humans and animals alike, the laws of biomechanics apply to the structure and function of the entire body, including the cellular level.
If there's dysfunction in the biomechanics of your movement, you run the risk of overuse injury, repetitive motion injury, and structural misalignments that can affect the muscles and skeleton, and even organ systems. Pain, tension, stiffness and swelling are usually signs that you've got faulty biomechanics.
Physical therapists (PT) use biomechanical analysis to make a specialized study of how you move and how your movement affects your physical health. It's a critical analysis of all your moving parts, not just an injured area.
What to Expect
During a biomechanical analysis, your PT will
ask about aches or pains you may be having,
review your medical or injury history,
ask what goals you have for becoming pain free, stronger, more agile, etc.
During the assessment, the PT will take measurements of joints and will observe movement patterns as you sit, stand, reach, twist or do whatever your body requires to accomplish daily tasks important to your quality of living.
While observing you, the PT is gaining an understanding of
which body parts and tissues are moving too much or not enough.
where muscles are tense or tight.
which joints are "stuck" or hypermobile.
where you have imbalances in muscle strength and joint range of motion.
All of this information is used to develop a plan of care to get you moving in correct alignment with as little (or no) pain as possible and with less risk for injury.
You need not be injured (nor do you have to be an elite athlete) to benefit from a visit to a physical therapist. While you do not need a referral or prescription for therapy, if you use medical insurance, you will need a referral from your primary care doctor for part or all of it to be covered. Having a biomechanical analysis while you're feeling good can identify muscle imbalances, poor posture, and faulty movement patterns that put you at risk for injury.