September 2019 Edition
What's New
Before pregnancy, a woman's uterus is typically the size of an orange. By the third trimester, it can be about the size of a watermelon. In fact, it can expand up to 500 times normal size during pregnancy.
Healthy Pregnancy – for Mom and Baby
During pregnancy, a woman's body creates an environment in which an entire human being is formed. What could be more amazing than that? As the new mom-to-be strives to protect the integrity of the womb in which her baby will develop, she needs to make good lifestyle choices and commit to high-quality food and nutrients. Here's some important information to help achieve those goals.
Pregnancy Nutrition Essentials
Daily requirements for macronutrients (proteins, fats, carbohydrates), vitamins, and minerals change dramatically in pregnancy and are crucial to the health of mom and her developing baby. For most normal-weight pregnant women, the right amount of calories is about . . .
1,800 calories per day during the first trimester.
2,200 calories per day during the second trimester.
2,400 calories per day during the third trimester.
These calories should be acquired from a variety of whole grains, fruits and veggies as well as eggs, lean cuts of meat and poultry, and low-mercury fish, such as tilapia or salmon. (Vegetarians and vegans will have dietary considerations to discuss with their holistic doctor in order to ensure they meet their caloric and nutrient needs.) During pregnancy it's particularly important that food is sourced organic, verified non-GMO and antibiotic-free to ensure chemicals are not passed along to the baby.
Tips For Meeting Pregnancy Nutrient Requirements
Increase Protein. Pregnant women need 75 – 100 grams of protein daily, Good sources include: fully cooked fish, lean meat, poultry, nuts, legumes (black beans, lentils, chickpeas, etc.), plain yogurt with added fresh fruit, and tempeh. If you find it challenging to eat high-quality sources of protein, speak with your doctor about using protein powder to make smoothies (or to add to yogurt or oatmeal).
Choose Healthy Fats. Consuming adequate fats is vital to baby's organ and brain development. Focus on healthy sources such as avocado, nuts and nut oils, olive oil, coconut, eggs, low-fat plain yogurt with fresh fruit.
Snack on Veggies and Fruits. Eating a rainbow of fruits and veggies helps curb cravings, boost energy, and provide essential fiber, vitamins and minerals (calcium, vitamin C, folic acid, and others). Ideally, eat veggies raw or steamed; also consider fermented veggies.
Drink More Water. A woman's blood volume increases during pregnancy and her body has to supply fluid to replenish the amniotic fluid surrounding the baby. Drinking water is important for hydration levels and may help with morning sickness and prevent constipation. The amount of water needed varies by activity level, climate, food consumption; an average rule of thumb is to drink 1/2 body weight in ounces.
Go for Whole Grains. The carbohydrates provided by whole grains are your body's primary source of energy. Grains also provide B vitamins and fiber. Ancient Grains (such as millet, flax, farro, oat, and quinoa) are an excellent source of whole grains. Choose fresh-baked breads; opt for whole grain crackers, pasta, and brown rice.
Consume Fermented Foods. Fermented foods are a potent source of probiotics, which are essential to powering up the mucosal immune system in your digestive tract and producing antibodies to pathogens. Both are key to maintaining vibrant health for mom and baby. Your holistic doctor may recommend a probiotic in lieu of fermented foods.
Eat Smaller Meals. Morning sickness, special dietary needs, and other factors can alter the food a woman can tolerate during pregnancy. Many women find eating smaller meals, more frequently, is easier for digestion and managing nausea.
Avoid Chemicals. Chemicals in processed foods, caffeine, and sugar can affect the development of the baby's brain and nervous system, as well as immunity and gut health. Try to avoid (or significantly reduce) your intake of processed/packaged foods, caffeine, and sugary snacks. If you need a caffeinated beverage, opt for green tea over soda and if you drink coffee, keep it to one cup per day.
Consider Supplements. A prenatal vitamin containing folate is beneficial to many women during pregnancy and many holistic doctors recommend starting it a minimum of three months preconception. A number of other supplements are considered important for mom and developing baby, based on individual needs. Consult your holistic doctor to determine what is safe and best for you.
The Integrity of the Womb
Many chemicals and medicines have unknown risks for the fetus, which can result in birth defects. To protect the integrity of the womb, it's important for a woman to avoid use of over-the-counter and prescription medicines that are not essential for a health condition. Of course, recreational drugs, alcohol, and smoking are to be avoided. Finally, herbs (botanical medicines) and essential oils should be cleared by your holistic physician before use during pregnancy or breastfeeding.
These tips skim the surface of making healthy choices during pregnancy. To address your unique needs, speak with your holistic doctor, obstetrician or midwife about what is best for you and baby during pregnancy.
Food for Thought. . .
"Life is always a rich and steady time when you are waiting for something to happen or to hatch." – E.B. White, Charlotte's Web
Oh, SO Yummy! Homemade Dark Chocolate
Finally, a homemade dark chocolate recipe that will make your tastebuds sing in delight! Made without artificial ingredients, it's the ideal treat for any health conscious person who enjoys an occasional sweet indulgence. You can adjust the intensity of sweetness to your preferred taste, and add-in options are endless – berries (fresh or dried, without added sugar), nuts or seeds.
Ingredients

1/2 cup coconut oil
1/2 cup cocoa powder
3 tablespoons honey or maple syrup
1/2 teaspoon vanilla extract
Preparation

Gently melt coconut oil in a saucepan over medium-low heat. Stir cocoa powder, honey, and vanilla extract into melted oil until well blended. Pour mixture into a candy mold or pliable tray. Refrigerate until chilled, about 1 hour.
Folate: An Important Nutrient for Pregnant Women
You've probably heard that folic acid is an important nutrient during pregnancy. However, there's a misconception around this. And it's an important one: What you really want is bioactive folate (aka Vitamin B-9). Folic acid is actually a synthetic form of folate and the body has difficulty converting it into the folate needed during pregnancy. Folate is essential during the first several weeks for the development of genetic material, as well as throughout a baby's growth in the womb.
Low folate levels in pregnant women have been linked to birth abnormalities, such as neural tube defects (NTD), which affect the brain and spinal cord, and congenital heart conditions. While not every type of NTD is linked with low-folate levels (some have other biological causes), the majority can be prevented by taking 400 mcg of folate daily.
The best way to acquire folate is through a diet rich in whole foods, including asparagus, avocados, Brussels sprouts, and leafy greens such as spinach and lettuce. It's not ideal to rely on foods labeled as being "fortified with folic acid." A dietary supplement (typically 400 mcg) may be necessary in order to ensure sufficient levels during pregnancy. Some women have a MTHFR genetic mutation which requires a special form of folate called 5-Methyl-tetrahydrofolate. If you have questions about the role of or form of folate you need during pregnancy, consult your naturopathic doctor or holistic physician for guidance.
What Every Pregnant Woman Should Know about Herbs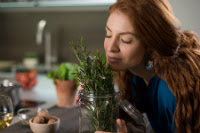 Because herbs come from nature, many people believe they're safe to take at any time. But, that's simply not true. In fact, many herbs should not be taken while trying to conceive or during pregnancy and post-partum, while breastfeeding.
The constituents of plants – phytochemicals and other active compounds – can interact with hormones that circulate during the prenatal period and as the fetus is developing. Some herbs can stimulate the uterus to contract. And, if you have other health conditions for which medication is prescribed, there is potential for a drug-herb interaction. Also, once the baby is born, just like with prescription medicines, some herbs can get into breast milk and passed on to the baby. Even if you've taken a certain herbal medicine prior to pregnancy, this does not make that herb safe for you to use when pregnant or breastfeeding.
Here are a few of the many herbs that are not safe to use during pregnancy:
Aloe. If you've taken aloe vera juice for gastrointestinal symptoms, you should not continue to use it during pregnancy. Internal use of aloe stimulates bowel function, but may also stimulate uterine contractions and cause a drop in blood sugar.
Goldenseal. Often recommended by herbalists for stomach aches, to support digestion and to treat hay fever, goldenseal can cause uterine contractions.
Licorice. Commonly recommended for gastrointestinal complaints, as well as sore throat and cough, licorice is contraindicated for pregnancy because it contains a compound called glycyrrhizin that can deplete potassium and raise blood pressure. There are products, such as Deglycyrrhizinated Licorice (DGL), that contain the benefit of licorice but which have had the glycyrrhizin removed.
Sage. A chemical found in sage called thujone can bring on a woman's menstrual period, which could cause a miscarriage. Postpartum, sage is not recommended because it can reduce a woman's milk supply. Avoid using sage essential oil, as well as drinking tea with sage. As a cooking herb, sage is safe to use.
Keep in mind, there are many herbs for which there is no safety data because research cannot be conducted while a woman is pregnant; animal studies, if conducted, may not be applicable to human pregnancy and breastfeeding. While there are many herbs regarded as safe to use at various times during a pregnancy, it's imperative that you not make such decisions on your own. Your best resource for choosing herbs during pregnancy is a consultation with a holistic physician who has been trained in botanical medicine and women's health.
Holistic Therapies for a Healthy Pregnancy
Pregnancy brings forth emotional ups and downs along with physical shifts that take place within a woman's body. It's a time that is equally exciting and exhausting, which makes it so important for a woman to focus on self-care for her mind and body. The following activities support a healthy, active pregnancy while helping to reduce stress and anxiety that can often comes with bringing a new life into the world.
Keep Moving. Aerobic exercise enhances circulation, facilitates bowel motility, reduces stress, supports restful sleep, and strengthens the cardiovascular and muscular systems. Taking moderately-paced 30-minute walks, twice a day is a good start for most women. If it's been a while since you've engaged in daily exercise, check with your physician about the best way to start. If you've been exercising regularly or are an athlete, you may need to modify your usual routine to prevent injury and reduce the risk of strain on the pelvic muscles that support the uterus. Whatever your routine, it's good for both mind and body to spend time outdoors in nature,
Strengthen Body and Mind with Yoga. Yoga, which is meditation in motion, can be practiced throughout your pregnancy, with modifications made as your belly grows. Yoga strengthens and stretches the muscles, including those that support the pelvis. Specific breathing patterns used in yoga help strengthen the respiratory muscles needed when the time comes for delivering the baby. Be sure your instructor is certified to teach yoga for pregnancy.
Sleep Well. There will be lots of sleepless nights as you get closer to delivery and once the baby arrives, so make sure you are getting adequate rest during pregnancy. Restful sleep supports immunity, enhances resilience to daily stressors, and supports the development of the fetus. Try to keep routine times for lights-out each night and wake-up each morning. Sleeping on the left-side seems to improve sleep in pregnant women. If you have difficulty sleeping through the night, try taking a brief nap at least once during the day.
Get "Ah" Massage. Prenatal and pregnancy massage helps nourish the muscles and organs, lowers stress, and reduces swelling that occurs during pregnancy. It can also help reduce back and foot pain, improve sleep, reduce emotional angst that can arise as the due date approaches. Look for a licensed massage therapist who has been trained in therapeutic massage for pregnancy.
While all of these modalities are considered safe during pregnancy, every woman is different. Please check with your physician before starting or changing your exercise or self-care routine to make sure the modality is appropriate for you and baby.